We focused on adaptive reuse recently thanks to our work with Camp North End, a 76-acre former Ford factory, Army depot, missile plant and warehouse site in Charlotte. Developer ATCO has created "an intentionally designed ecosystem of creativity," targeting tenants who value inspiring spaces, historic context, and proximity to Charlotte's hottest neighborhoods. Red Propeller was hired to help drive lease-up for the project. To capture the authenticity and historic moxie of Camp North End, we spearheaded creative direction and collateral development that showcased the property's unique story, location, and offerings.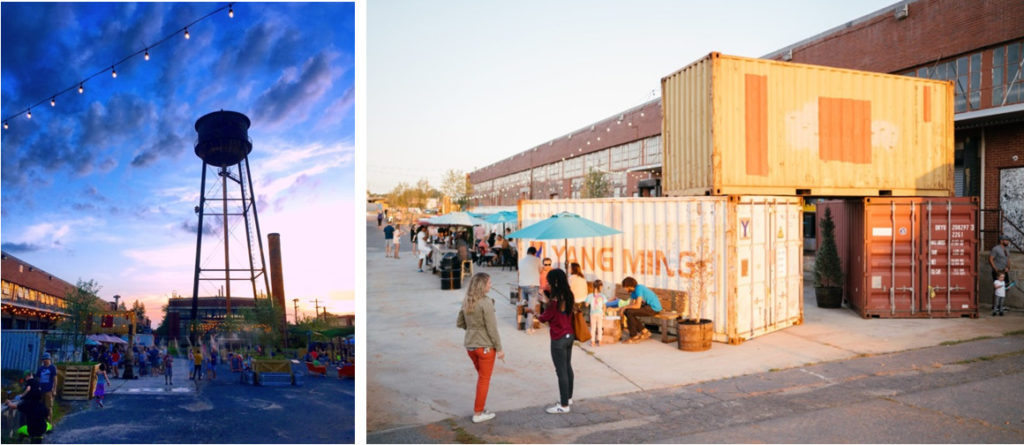 As part of our efforts, we researched interesting projects that converted former industrial properties into new offices and other commercial space. Here's a quick summary of a few notable ones.
One Workplace
This project in in Santa Clara, California converted a 1950s-era industrial facility previously used for paper manufacturing into a new corporate headquarters, showroom and warehouse facility for a commercial furniture supplier. Cool features include 22- to 30-foot ceilings, exposed wood-frame ceilings, wood and concrete floors, and heavy-duty doors. The renovations included adding a distinctive rusted-steel cladding element at the entry, modular meeting rooms and a curving "boomerang" mezzanine.

Urban Outfitters corporate campus
These four historic buildings in the former Philadelphia Navy Yard were built from 1880 through 1939, and previously used for construction, repair and scrapping of ships. They feature enormously high ceilings, huge windows, steel beams, brick walls and distinctive industrial elements. Urban Outfitters preserved and showcased this heritage, while creating 250,000 square feet of office space and 8,000 square feet of retail.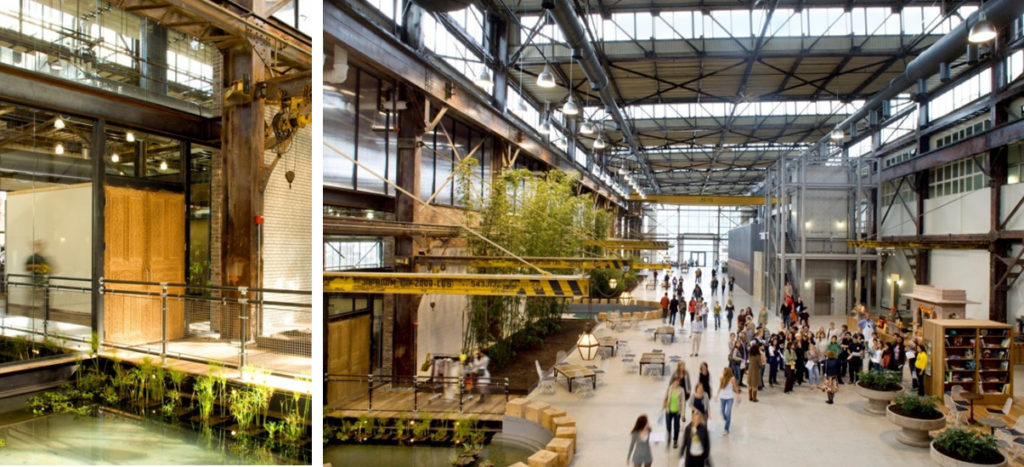 AF Group Headquarters
AF Group created its new headquarters in a decommissioned 227,000-square-foot power station erected in Downtown Lansing, Michigan in 1939. The project involved restoring the masonry facade, replacing practically the entire interior and connecting the existing building to a new addition via a glass atrium.

Slack
Software company Slack created its new headquarters in a former industrial space in Downtown Vancouver's Yaletown district. They kept exposed brick, wooden beams, and exposed ductwork and mechanics. The interior features skylights and large windows, and a large moss-covered wall. A massive staircase and stadium seating connect two of the floors through an open atrium. Mobile meeting rooms can be rolled to where they're needed. Semi-private cubbies allow for Skype meetings and phone calls.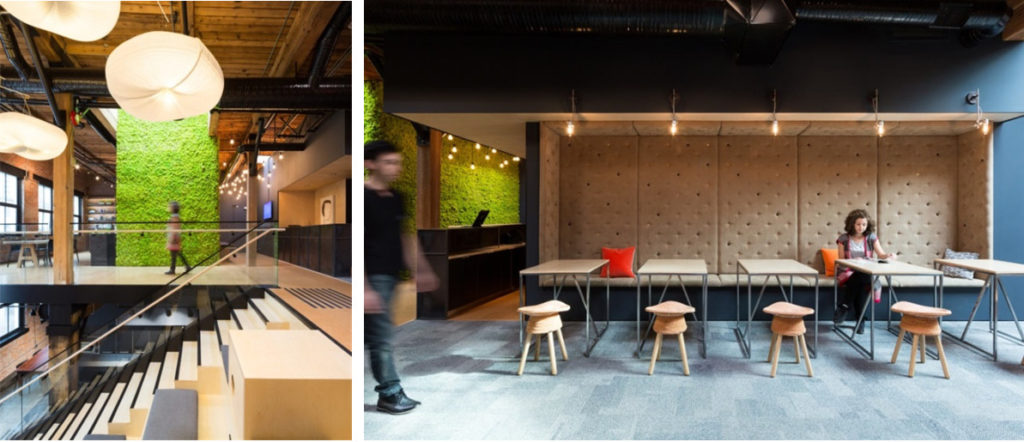 Reuse suits office trends
One result of this research was a realization that adaptive reuse of former industrial spaces often aligns with current office design trends. Notably, these spaces frequently feature:
Large, open spaces that allow for agile, collaborative offices with a variety of work areas
High ceilings that accentuate the feeling of openness
Large windows and doors that can connect indoors and outdoors
A visually interesting variety of textures, such as wood beams, brick and stone walls, wood and concrete floors, and metal elements
Lots of space for recharge areas, kitchens, outdoor lounges, etc.